The 2015 Dartz Black Snake is one mean brand in the truck world. This Latvian based company became famous for production of luxurious armored trucks and shiny bullet-proof beasts became one of the standard symbols among some highest ranking oligarchs and tycoons of Eastern Europe.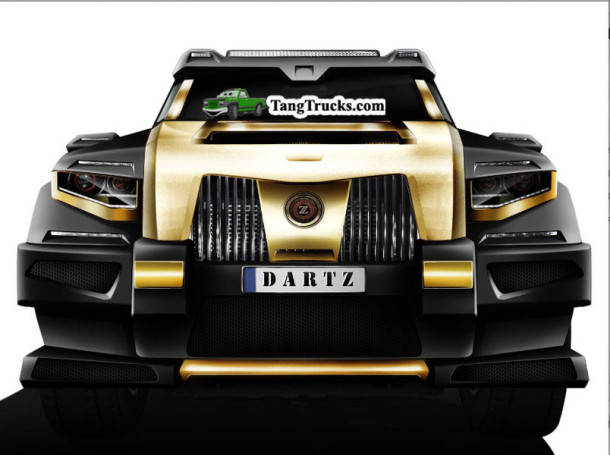 Company became notorious among the eco-friendly, save the whales car enthusiasts after promoting a new model Dartz Promblon, made with custom leather upholstery made from whale penis skin (wtf!). Some of its vehicles are made to withstand rocket-propelled grenade attacks, land mines, mortar attacks and all kinds of other attacks. Their 2015 Black Snake model is a special edition made for Chinese market, since 205 being the Year of Snake in Chinese calendar.
2015 Dartz Black Snake Design and Exterior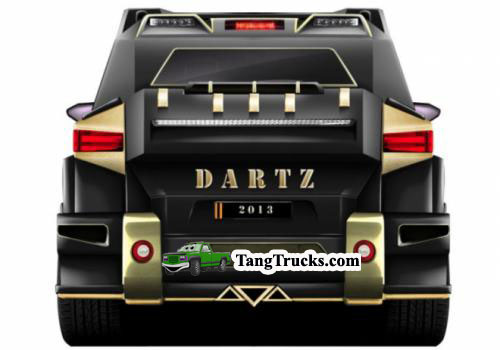 Exterior design of 2015 Dartz Black Snake is powerful and intimidating. It is a real masculine vehicle, more then Hummer or any other truck or SUV we could find. Its shell is made frome space aluminum. It is constructed by capsule technology, popular in Russian bullet-proofed vehicle production, which was used for the first time in making of bullet-proof vehicle for Joseph Stalin. This vehicle has some crazy expensive details and it is not really smart to leave this vehicle unguarded for a second even.
We will just mention the gold on their grille and optional diamond hood ornament made in Russian city of Smolensk.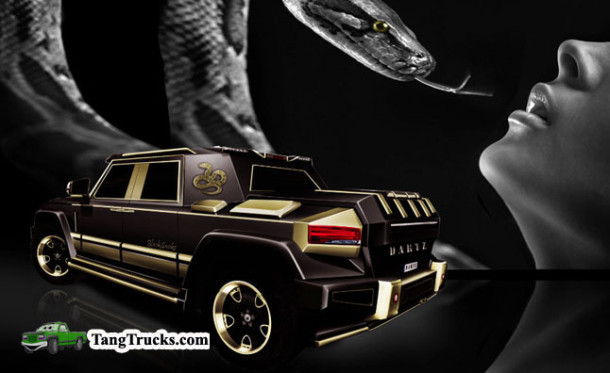 2015 Dartz Black Snake Features
One of the craziest and most notorious feature of interior of 2015 Dartz Black Snake vehicles are its upholstery. I guess standard sheepskin or cowskin leather is not good enough for the Dartz fans, so the company decided to introduce some exotic new leather upholstery seen for the first time in car industry, depending on the trim you can choose from: crocodile skin, ostrich skin, snake skin and the most notorious skin from whale scrotum. These exotic selection of upholstery ignited lot of criticism from animal rights organizations, but as we can see Dartz Motors and its rich fan base simply don't give a f… about that.
2015 Dartz Black Snake Engine and Performance
This vehicle is based on a Mercedes GL 63 AMG platform and comes with powerful AMG-sourced 5.5-liter V-8 bi-turbo engine. This beast can produce 557 horsepower with 560 pound feet of torque. This powerful engine gives this truck some high velocity and speed. Although it is as big as armor vehicle, Black Snake can reach 60 mph in only 4,9 seconds, which is almost the same as some really fast sedans.
Price and Release Date
The 2015 Dartz Black Snake is as expensive as it gets, with price going around $1,000,000.
Buying this luxury vehicle will make you one of the few people in the world that has it. It will make you popular among arrogant rich crowd and very unpopular among PETA fans.
He will enter the market at the end of the 2015.
Writen by