The last Bronco was made back in '96 and since then there hasn't been much information about a successor. In 2004 Ford released a Bronco concept so rumors started once again but these quickly faded away. Interestingly enough though, back in 2015, rumors about a new Bronco started to surface. Ford quickly dismissed these rumors saying that they were not working on a Bronco at that time. Even though they tried to, they didn't really succeed. Shortly after more and more information started to surface while earlier this year the rumors were finally confirmed when the Ford Bronco 2020 has been finally confirmed. The SUV is going to be made at Ford's Wayne plant in the United States and it is going to be based on the same platform as the Ranger. However, Ford did say the car is not going to be a modified Everest which is reassuring.
Ford Bronco 2020 Detail and Price
The new Bronco is set to become a true off-road SUV and not just another crossover. The car is going to be based on a truck's ladder chassis, just like the original, and it is expected to offer considerable performance on and off the road. Not that long ago Ford announced the car is going to be between the original and the 2nd generation Bronco in terms of size. This puts it in the same class with the ongoing Wrangler. Because of their statement, it also seems the Bronco may be available in a three-door configuration. If this is the case then the 2020 Ford Bronco will definitely become one of the most talked-about cars revealed this year. The price is unfortunately still unknown but we can safely assume the base model will cost less than $30,000.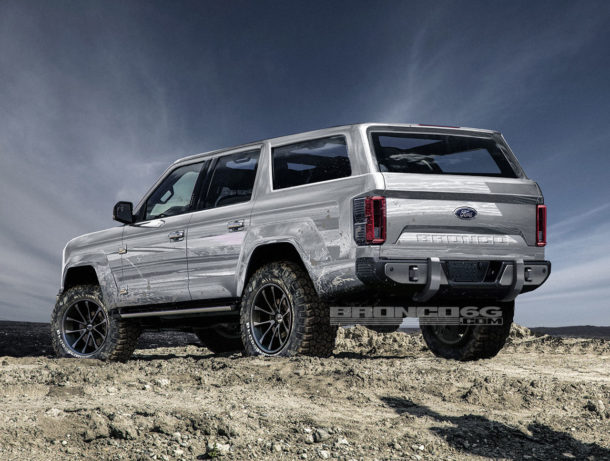 drivetrain
Thanks to its separate chassis, the Bronco will get all the benefits of a truck's running gear. In the front, it is expected to ditch the independent setup found on the Ranger for a live axle. The same type of setup will also be used in the back. Both front and rear axles will likely be supported by coil springs and the Bronco is expected to get disconnecting sway-bars as an optional extra. Disc brakes will be used at all four corners while a limited slip differential might be offered on the base model. The higher end versions of the Bronco are definitely going to come equipped with front, center and rear lockable differential, an essential feature for off-road use.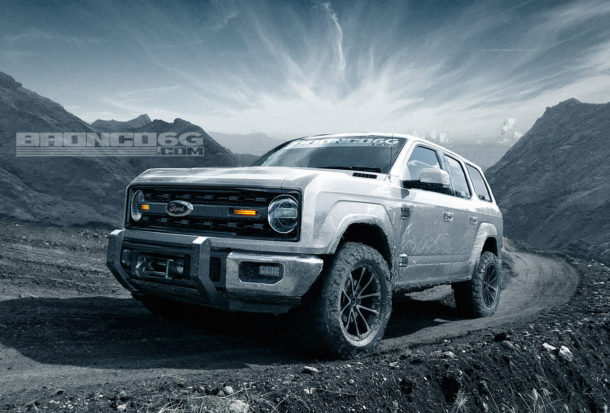 design – inside and out
At this point, it still is a bit early to say for sure how the Ford Bronco 2020 is going to look like. Even so, there are quite a few available details about it. As we said before, in terms of size the car is not going to be as big as some thought. On top of the three-door model, a five-door version will be available for a fee and it is expected to be the best seller. The car will more than likely feature a modern-classic design, similar to Ford's 2004 concept. Expect it to get a boxier look than the regular new crossover as well as some off-road features. Flared wheel arches, short overhangs or an external spare tire might all be offered on the Bronco.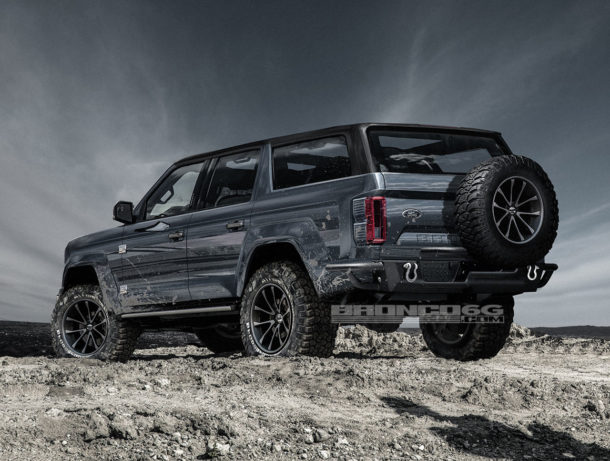 Ford Bronco 2020 Engine
It has already been confirmed that the Ford Bronco 2020 will boast the same engines as the Ranger truck. The base model is more than likely going to use a 2.0 or a 2.3 liter four cylinder turbocharged gas engine. This should offer anything between 245 and 275 horsepower and north of 270 lb-ft of torque. A larger twin-turbocharged V6 is also a real possibility. This is more than likely going to be Ford's current 2.7 liter V6 which is known to make around 310 horsepower and 375 lb-ft of torque. A diesel will be an option too. However, there are multiple possibilities here. Most suggest the car will get a 3.2 liter inline 5 which is good for around 180 horsepower and over 300 lb-ft of torque. Instead of this engine, Ford may decide to install a 3.0 liter V6 which has been revealed not that long ago. This engine is known to make over 240 horsepower and 400 lb-ft of torque but it may drive the price of the car too high. In order to be competitive, a 6-speed manual is expected to be standard across the range while a 10 speed automatic will be an option.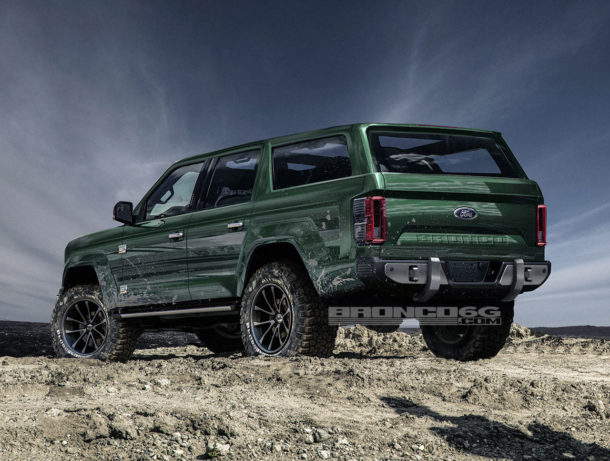 Writen by