The Ford F-150 is coming back in 2015 and it is coming back fully revamped. Although already established among its class, the F-150 is continuously improving and this new generation is no exception.
2015 Ford F150 Exterior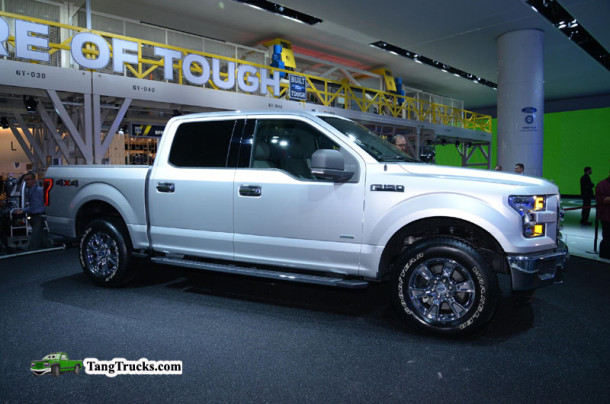 The new model is getting an overall more lightweight body, more specifically speaking a 700 pound lighter body, due to the use of new aluminum body panels. And this new upgrade will surely resonate with the fuel efficiency. The F-150 keeps its signature hefty grille, along with the same hood bends and bulges. Another innovation are the high-intensity discharge (HID) headlights, now available as an option, which offer a much greater visibility.
2015 Ford F150 Interior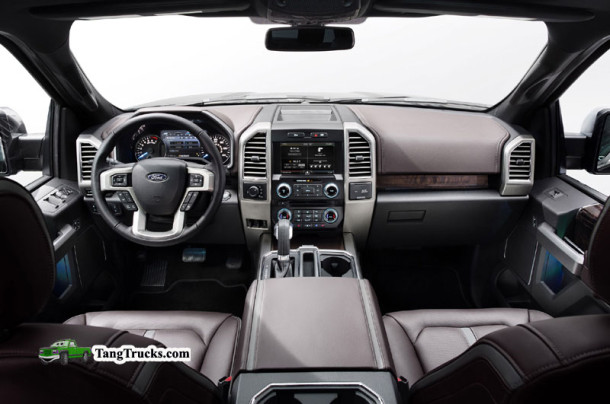 Due to some added width to the vehicle and some slimmer doors, the cabin gains 2 inches. The additional space is most notable between the driver and the passenger seats. At most the F-150 seats six passengers depending on the seating choices. The interior design also gets an upgrade with a more premium feel. As for the specs, lower trims get a 4.2-inch LCD that accommodates the stereo and climate controls, while the state of the art trims get a larger 8-inch touchscreen that takes up the most of the center console. The MyFord Touch system has been updated to improve handling, it allows you to interact with the vehicle using touch sensitive controls and voice commands.
2015 Ford F150 Safety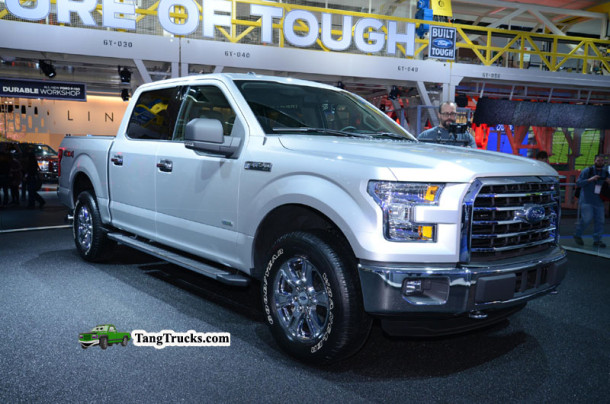 Basic safety features for the F-150 include, antilock brakes, an electronic stability system with Roll Stability and Trailer Sway Control, and front, front side-impact, and side curtain airbags.
2015 Ford F150 Engine
There will be a choice of few engines. The entry-level 3.5-liter V6 has been downsized from 3.7l which is used by the current model. The turbocharged 2.7-liter EcoBoost V6 is all new and should most likely be the fuel economy leader of the lineup. Another option will be a 5.0-liter V8, likely with the output of 360 horsepower and 380 pound-feet of torque, and this one will likely be a more affordable option and also a better towing option, but it's also likely that it will be the least fuel efficient of the bunch. The twin-turbo, 3.5-liter EcoBoost V-6 carries over, and delivers 365-hp and 420 pounds-feet of torque, along with great efficiency that doesn't sacrifice power. All the engines will be mounted to the same six-speed automatic transmission.
2015 Ford F150 Price
The 2015 Ford F-150 will be available later this year, with prices starting at $25,035 for the 2WD Regular Cab 142 XL and $30,345 for the 2WD Regular Cab 142 XLT.
Writen by