At this year Detroit Motor Shoe, General Motors has introduced its newest contender for the mid-sized pickup battle and that is the new 2015 GMC Canyon. CM has been absent from the mid-size line up for some time now, but they are ready to reestablish themselves in this category and the new Canyon is a great way to do so.
2015 GMC Canyon Exterior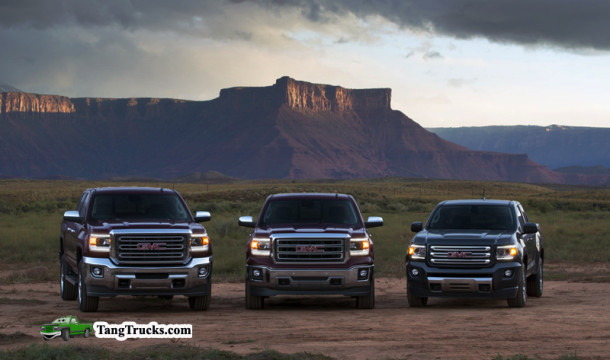 The 2015 Canyons exterior design has got some genuinely distinguishing exterior features, for example the bold grille or the bulging fender flares. The crew cab SLT trim is excessive with the chrome which makes the grille, the running boards and bumpers quite flashy. The extended cab SLE trim, however, offers a different kind of flashy with its bulky tires and the resilient tubular running boards, which may appeal to the more dirt loving kind of a customer. A noteworthy feature is an additional step interspersed into the rear bumper and the optional "EZ Lift-and-Lower" tailgate, which makes for one-handed closing and no-bang opening of the tailgate.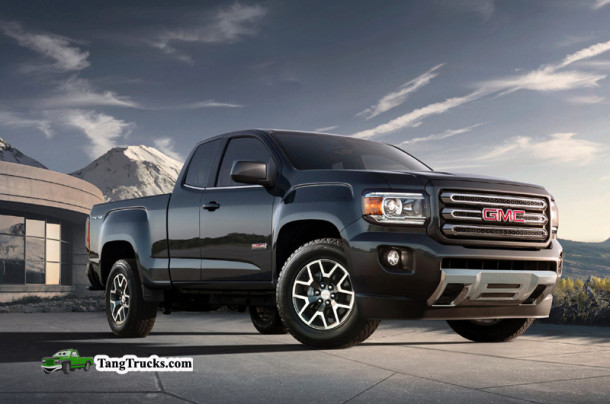 2015 GMC Canyon Interior
The new interior design is grand and luxurious with an abundance of soft touch materials. Heated leather seats are standard and upper level trims embossed seatbacks and contrast stitching. The head and legroom is sizeable and the comfort is more than satisfactory. As for the specs, some of the coolest features are the 8.0-inch color IntelliLink multimedia system with advanced navigation and voice recognition and a 4G LTE cellular connectivity, making the truck a Wi-Fi hotspot.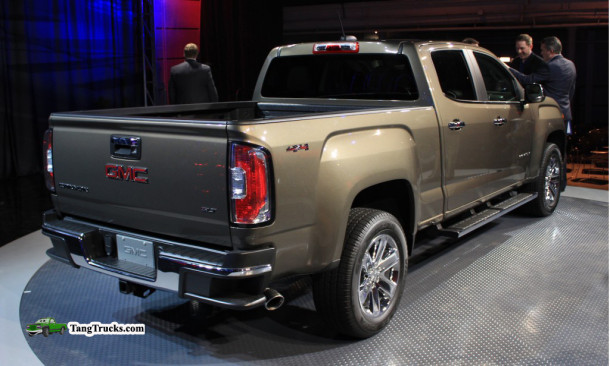 2015 GMC Canyon Safety
Some of the noteworthy safety features include a standard rearview camera, optional forward-collision alert, lane departure warning and adaptive cruise control.
2015 GMC Canyon Engine
The new GMC Canyon will come with a base 2.5-liter four-cylinder engine that can produce up to 193 horsepower and 184 pound-feet of torque, just enough for light duty and around town driving. Up a level is a 3.6-liter V6 engine that can reportedly make 302 hp and 270 lb-ft of torque. In addition, a 2.8-liter turbodiesel four-cylinder engine is scheduled to appear in the 2016 model. For both engines come with a six-speed automatic transmission that is standard, while the extended-cab four-cylinder two-wheel-drive base Canyon will be offered with an optional six-speed manual transmission. As for the Towing capabilities, the new model is rated for 6,700 pounds.
2015 GMC Canyon Price and Availability
Production of the new Canyon will start this fall and will likely be available sometime next year. As for the price, we can expect it to start around $30,000.
Writen by