The 2014 GMC Sierra 3500 Denali is on the market. GMC Sierra is a heavy duty pick up truck. It is the same vehicle as the Chevrolet Silverado. They are in production since 1998. Sierra and Silverado were almost the same through most of their production, with one exeption, Silverado has been advertised as the pick up truck meant for agriculture and Sierra as the industry oriented pick up truck. Since 2001 GMC introduced more luxurious version of this pick up truck called Sierra C3, which later changed its name to Sierra Denali (in 2002).
2014 GMC Sierra 3500 Denali Exterior

The 2014 GMC Sierra 3500 Denali exterior doesn't defer much from the last model, and it almost the same as the Chevrolet Silverado. There are minor differences in the front part, especially on the grille, but other then that we are looking at the two almost the same pick up trucks. GMC decided to change old extended-cab configuration and change the rear-hinged half-doors for the front-hinged ones in this model. This way it looks more like the Ram short cab pick up truck.
2014 GMC Sierra 3500 Denali Interior Features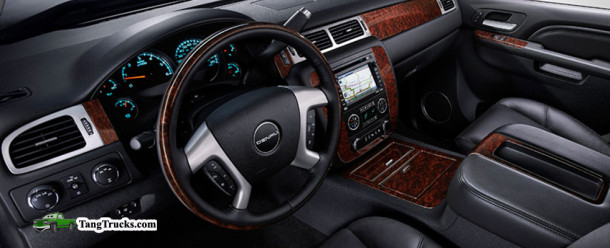 The pride of 2014 GMC Sierra 3500 Denali is are its interior features. It comes with soft touch materials on the instrument cluster and the dash board, leather upholstery, contrast stitching and much more that adds to the comfort of this model. It also has 12V and 110V charging outlets in the front and back seat. There are numerous hi tech features in the new Sierra Denali model like InterLink application, 8 inch touch screen, voice command, Bluetooth connectivity, 2 USB ports etc.
2014 GMC Sierra 3500 Denali Engine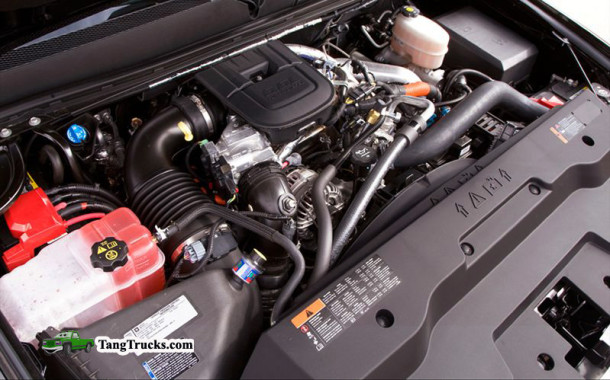 2014 Sierra 3500HD Denali comes with 6,6 liter DURAMAX V8 diesel engine. This beast can pull out 397 hp and 765 lb ft of torque. It has abnormal towing capacity which is the prime concern of most of the heavy duty as well as full size trucks these days. This Sierra Denali model can tow 19,600 pounds and 23,300 pounds in fifth wheel.
Price
Price of this model is $50,640 for the basic version. Price goes up, depending on the trim and additional options you choose.
Image Gallery:
In last couple of years of truck craze around United States we saw some new records in power and towing capacity. Today's full size trucks have the same power and towing capacity as the heavy duty trucks from just few years back. Whole market is going mad and GMC and Chevrolet are still one of the main players out there, despite Toyota and Nissan bringing up new high quality powerful trucks to the United States every year.
More information:
GMC http://www.gmc.com/2014-sierra-3500hd-denali-pickup-truck.html
Writen by