The 2014 Toyota Hilux is a pick up truck, which was launched for the first time in 1968. Its production was discontinued in the United States in the nineties after launching new Toyota pick up truck for the American market called Toyota Tacoma. Toyota Hilux is still produced and sold worldwide for almost 50 years now, accept in United States, Japan, Korea and Canada.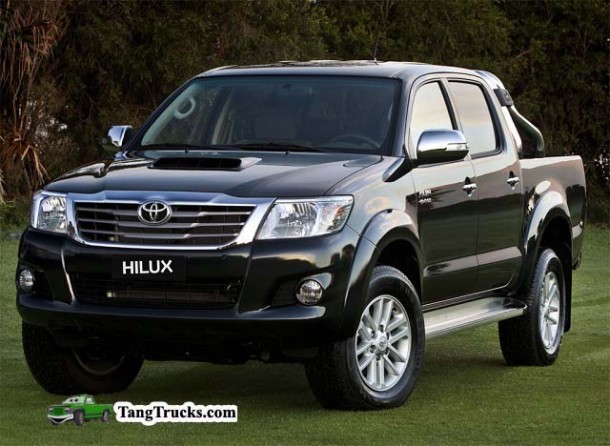 This vehicle won some respective awards and proved itself in the toughest off-road conditions like Amudsen Omega 3 South Pole Race, which in 2008 was won by the modified Toyota Hilux pick up. It is also one of the best selling pick up trucks in Australia, and we all know that Ozzies know how to respect a good off-road vehicle.
2014 Toyota Hilux Design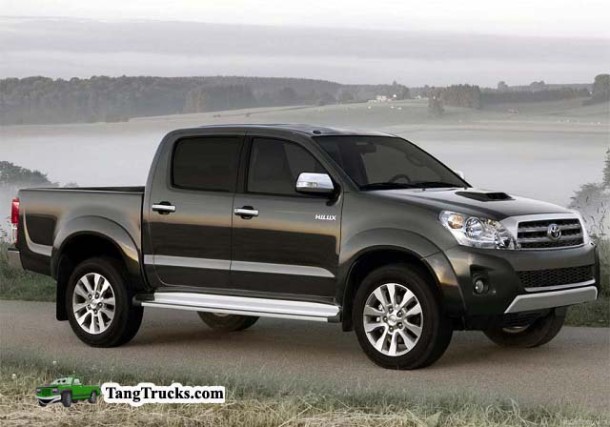 2014 Toyota Hilux model doesn't have any drastic design changes from the 2013 model, which received some big updates in its look with a new nose and taillights. It has a tailgate and a bumper step for easier cargo loading. On the front part it has a standard Toyota grille with a badge on top, air vent on the hood as well as some sporty and aerodynamic looking LED headlights.
2014 Toyota Hilux Interior Features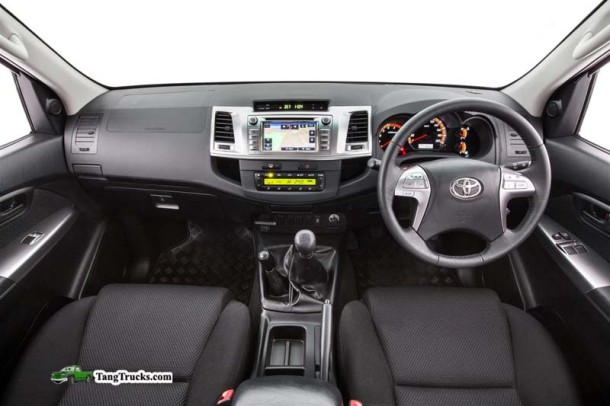 Interior of this model is the thing that is becoming outdated since it didn't receive many changes in last few years, especially in the basic trim level. SR5 trim level on the other hand, comes with 6.1-inch touch-screen media system that offers also a reverse view camera and satellite navigation. Upholstery color has changed, but although the new cabin looks little bit more luxurious and Lexus-like it didn't add up much on the comfort level. With SR5 trim level you can also choose a variety of leather upholsteries for additional $1,500.
2014 Toyota Hilux Engine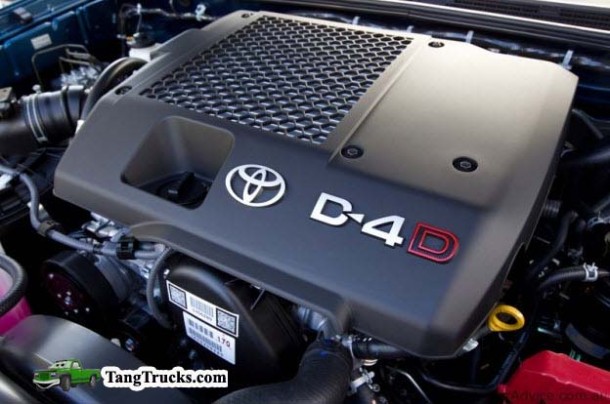 2014 Toyota Hilux engine is the thing that makes this model hitting the top of the best selling model lists every year. It comes with 3.0-litre turbo diesel four-cylinder that pulls out 169 horsepower and 252 pound feet of torque. Fuel efficiency is increased in this years model and it goes around 29 mpg. 2014 Toyota Hilux comes with five speed automatic transmission and a four wheel drive.
Price
Since this car is not available on American market it needs to be shifted from abroad, which means you need to pay customs and shipping costs in addition to the regular price of this vehicle which goes from $28,000 to $46,000.
Although Toyota didn't introduce many changes in this years Hilux model, we can expect it is going to stay as popular as it was, especially in Australia for its great off-road capabilities, good fuel efficiency and modest price.
More information:
Wikipedia http://en.wikipedia.org/wiki/Toyota_Hilux
Writen by