The 2014 Jeep Renegade is relatively new Jeep subcompact SUV. It is the only Jeep SUV produced outside United States. It is based on a same platform as Fiat 500X SUV (planned for sale in the end of this year) so therefore Jeep Renegade is produced in Melfi, Italy, together with its 500X cousin.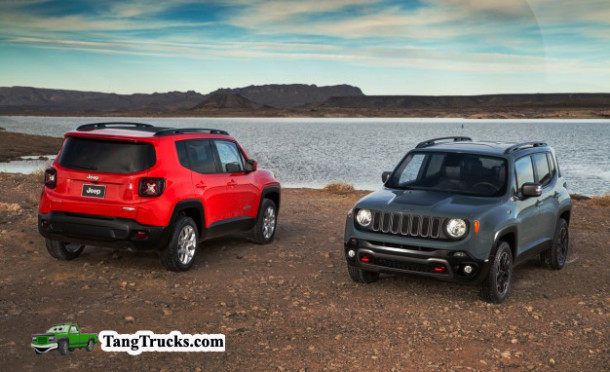 First model of 2014 Jeep Renegade debuted on 2014 Geneva Motor Show, and since then SUV enthusiasts are on alert. There are number of ongoing rumors about features and performance of this SUV as well as which Jeep vehicle is going to be replaced with Jeep Renegade, with two prime candidates being Jeep Patriot and Jeep Compass.
2014 Jeep Renegade Design
Jeep designers had a though assignment to make a small SUV which is still going to have all the famous Jeep memorabilia. It is needless to say that they did a great job. Designers definitely kept all the things that make this small vehicle an SUV, and not just ordinary SUV, we are talking about Jeep SUV here. Manliest of all SUVs, that came to American roads straight from the front line. Accept keeping it Jeep, designers succeeded in giving this vehicle a cute small car Italian look, that is becoming more and more popular with gas prices going sky rocket in the world.
2014 Jeep Renegade Review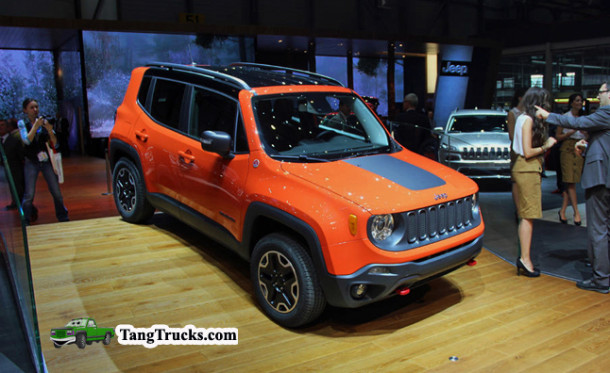 2014 Jeep Renegade's cabin is in black tones with some red details and contrast stitching on the upholstery. Cargo area is 12, 7 cubic feet and 30,4 cubic feet if the back row seats are folded. One of the best features on Jeep Renegade is its roof.
2014 Jeep Renegade Interior Features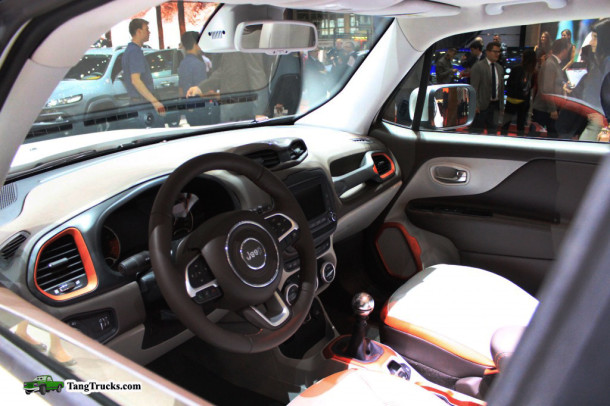 My Sky roof adds a lot of light to the cabin during day rides with two fiberglass panels that can be moved to the cargo area with driving in it in summer months feels like driving in a convertible. 2014 Jeep Renegade doesn't lack hi tech features as well, it has 6.5-inch touchscreen display on the dashboard and seven-inch TFT display in the instrument cluster. This small SUV also comes with heated seats and steering wheel and number of other additional options.
2014 Jeep Renegade Engine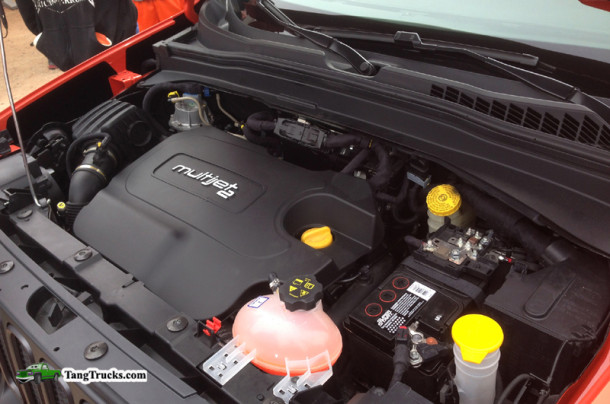 Since Jeep Renegade is going to be sold around the whole world there are incredible 16 different performance combinations. There are 4 MultiAir petrol engines and 2 MultiJet diesel ones. All that combined with nine speed automatic, a dual-clutch transmission and five and six speed manual transmissions. Out of all these engines only two are destined for American market. One is 1.4-liter, turbocharged four-cylinder, same one from the Fiat 500L and 2.4-liter Tigershark four-cylinder engine. First engine pulls out 160 hp and 14 lb pt of torque, it will come with 6 speed manual transmission, and maybe, just maybe it can be combined with four wheel drive system. Second engine pulls out 184 horsepower and 177 pt ft of torque, it will come with optional two or four wheel drive and nine speed automatic transmission.
Price
The 2014 Jeep Renegade Price is still unknown. Price is going to be revealed closer to the releasing date. Since its main competitors Kia soul and Nissan Juke start from $14,990 and $18,990 we can predict the new Renegade model will go for some number in between those two.
Jeep and Fiat recognized growing small SUV market. Buyers still want to drive big bulky SUVs that offer all the comfort and off-road abilities, but the gas prices are going up every day and nobody wants to work 3 days a week just for gasoline. Jeep and Fiat combined what they do best and made this fantastic compact crossover SUV, which we think will open a new era on American market, especially when gas prices go even more up and Wranglers become some serious high maintenance.
More information:
Jeep http://www.jeep.com/en/2015/renegade/
Writen by