The new 2015 GMC 1500 Sierra Denali is coming soon on the market. General Motors is releasing the newest version of its heavy-duty, big-dollar pickup, GMC 1500 Sierra Denali. With HD trucks being in high demand at the moment, GM is looking to profit by adding some new features, new engine and a better fuel economy.
2015 GMC 1500 Sierra Denali Exterior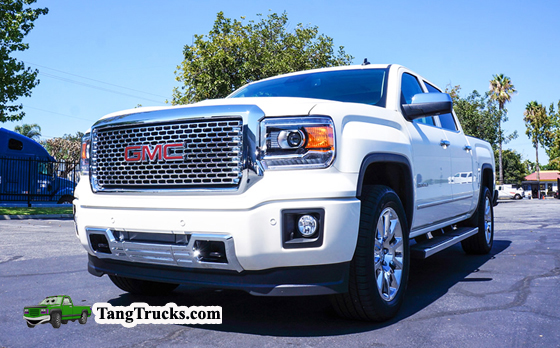 The 2015 GMC 1500 Sierra Denali design is all around elegant and appealing and the statement piece of the exterior is, with no surprise, the iconic grille that comes with three acres of chrome mesh inside it. The new design feature an overload of high strength steel, which is the main reason it received a 5 star Overall Vehicle Score for safety from NHTSA. Also, there is the option of some 20-inch polished-aluminum wheels, perfect for some heavy duty towing.
2015 GMC 1500 Sierra Denali Interior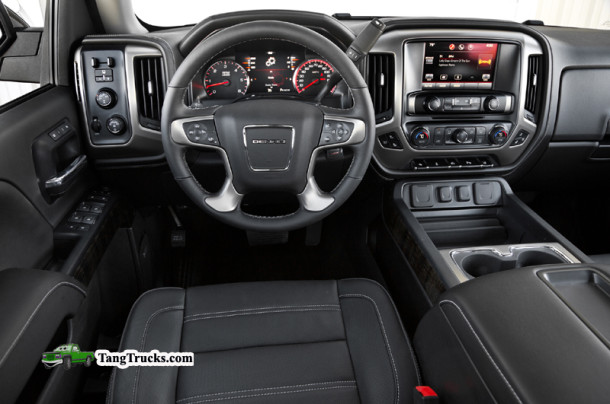 Inside, the new Denali is nothing short of luxurious. The plush combination of leather and wood trimming is prominently featured in the interior design, this is a feature that is borrowed from the last year model, but it is still as fresh and opulent. New addition are the all aluminum treatments found around the instrument panel cluster and the air vents, which give the design a more premium feel. The LCD gauge cluster is also present in the new model, which is a feature that does not come with a base model. The LCD gauge is customizable and you can display the information you desire and require. As for the comfort, the new Denali offers heated and cooled driver and passenger seats as well as 12 way power- adjustable bucket seats.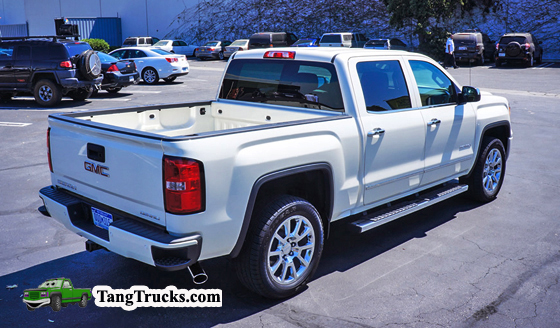 2015 GMC 1500 Sierra Denali Engine
Under the hood, the new Denali is offered with a choice of two V8 engines, both of whom feature the direct injection system as well as the variable valve timing and a cylinder deactivation system. The first one is a 5.3-liter V8 that produces up to 355 horsepower and 383 lb-ft of torque. The second one is the optional, Corvette-borrowed 6.2-liter V8 that can produce a staggering 420 horsepower and 450 lb-ft of torque. A six-speed automatic transmission is standard with both engine options and both rear-wheel-drive and four-wheel-drive configurations are available. Fuel economy for the 5.3-liter engine is estimated at 16/23 city/highway mpg with RWD, while 4WD models fare one mpg worse on the open road. The6.2-liter Denali is rated at 15/21 mpg with RWD and 14/20 mpg with 4WD.
2015 GMC 1500 Sierra Denali Price
The 2015 GMC Sierra Denali is out now, with a starting price of $55,000 dollars.
More information:
http://www.gmc.com/sierra-denali-pickup-truck.html
Writen by