2016 Kia Sorento fixes most of previous models' shortcomings – especially in interior space department, but still doesn't look like that different of a car. Next-gen models, however, always bring some new buzz around them, and Sorento is no different in that department as well.
2016 Kia Sorento Changes
For starters, Kia Sorento 2016 now features a third optional engine. 2.0L turbocharged 4-cylinder fixes base 2.4L 4-cylinder's lack of power shortcoming while remaining equally efficient. It delivers 240 hp and 260 lb-ft of torque and is standard with EX and top Limited trim levels. Mentioned 2.4L four makes 185 hp and 178 lb-ft of torque like before, and it's standard only on base L and LX grades.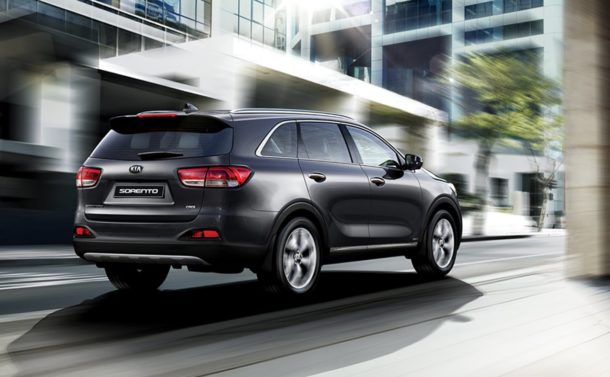 Finally, the most widespread unit is still 3.3L V-6, which yields 290 hp and 252 lb-ft of torque, while coming as a standard piece of equipment with LX V-6, EX V-6, SX and Limited V-6 grades. Like before, 6-speed automatic transmission still does its job, and all models apart from base L ones offer optional all-wheel drive. However, all of them are offered with the standard front-wheel drive configuration.
Kia Sorento 2016 Exterior
Biggest exterior changes come in the size department. 2016 Kia Sorento is some 3 inches longer which allows more room inside. Exterior design, however, hasn't been changed from the ground up. Most things are similar to the previous generation – to say the least. That doesn't necessarily have to be a bad thing. On the contrary, most people agree that Sorento has been a handsome car for years and why tamper with something that's good?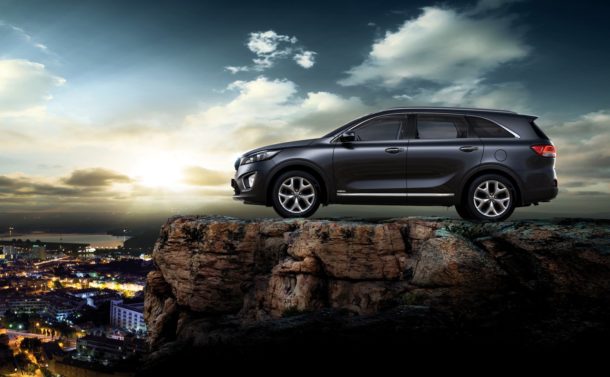 Kia Sorento on the Inside
Apart from new interior arrangements and slightly more space, 2016 Kia Sorento doesn't offer that much news inside. It now comes in a few more trim levels, but that's it. Space itself is still insufficient if you decide to incorporate the optional third row of seats. That way, both second and third-row passengers lose out. As for materials used, Sorento continues with both cloth and leather upholsteries, and optional wooden accents. The feature list is largely carried over, and things like Bluetooth, USB port, and 12-volt outlets are standard on every available model.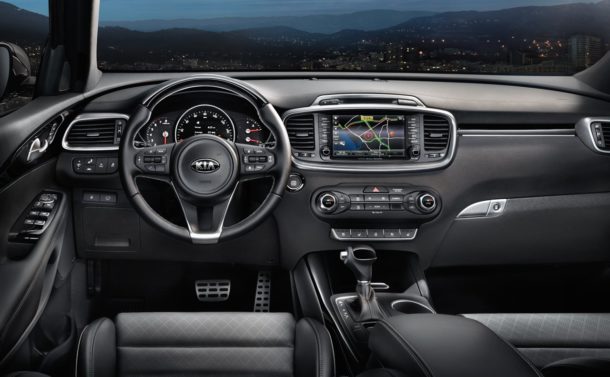 Disregard the entry-level L models, and every other will offer standard USB charger ports and rear camera display while top models offer Infinity surround sound system, 8-inch display with navigation, heated second and ventilated front seats among other things. Top models also offer standard blind-spot information system with rear cross-traffic alerts, while even they have adaptive cruise control, forward collision warning and lane departure warning for options.
Fuel Economy and Price of 2016 Kia Sorento
Fuel economy with base engine stands at 21/29 mpg while turbo four returns 20/27 mpg. While 4-cylinders maintain their numbers, V-6 exhibits lower figures than before. It's rated at 17/23 mpg, and all these figures stand for front-wheel drive. Base L models currently start from $25,100 while Limited V-6 models cost at least $41,500. That's quite a price span for a family car.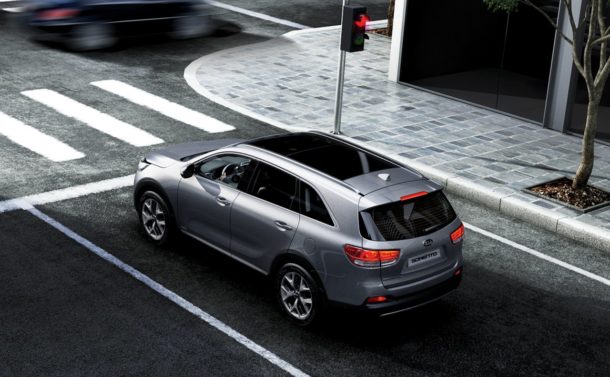 2016 Kia Sorento has, in my opinion, done a fine job. A few extra inches and new interior design change its complexion more than you think. At the same time, convenience and safety features are still largely the same, and so is exterior design – though on a smaller scale.
Also, take a look at 2017 Kia Sportage and 2016 Kia Sportage.
2016 Kia Sorento
Summary
year: 2016
make: Kia
Model: Sorento
Engine: inline-4
Transmission: six-speed automatic
Horsepower @ RPM: 185 @ 6000
Torque @ RPM: 178 @ 4000
Displacement: 2.4 L
0-60 time: 9 sec. (Est.)
Top Speed: 125 mph (Est.)
Price: $ 24100 (Est.)
Writen by