Chevy Colorado and GMC Canyon share the same underpinnings, just like Chevy Silverado and GMC Sierra do in bigger, full-size truck category. Both Colorado and Canyon have been reinvented last year and should take a large part of the market from Tacoma and Frontier. 2017 GMC Canyon will most likely only offer additional powertrain option and some minor styling tweaks, just like its Chevy counterpart.
2017 GMC Canyon Engine and Performance
Canyon currently rides thanks to base 2.5L 4-cylinder engine or optional 3.6L V-6 mill. While former generates 200 hp and 191 lb-ft of torque, latter yields 305 hp and 269 lb-ft of torque. By looking at Colorado, you'll notice that Canyon doesn't only share its platform, but its mechanical characteristics as well. This will be carried over to a new 2.8L turbo diesel 4-cylinder engine as well since oil burner is about to make 200 hp and 360 lb-ft of torque in both iterations. It comes as no surprise then, that Canyon shares Colorado's transmission choices too, and these are 6-speed automatic and manual units to choose from. Finally, both rear and all-wheel drive configurations are also offered across the board.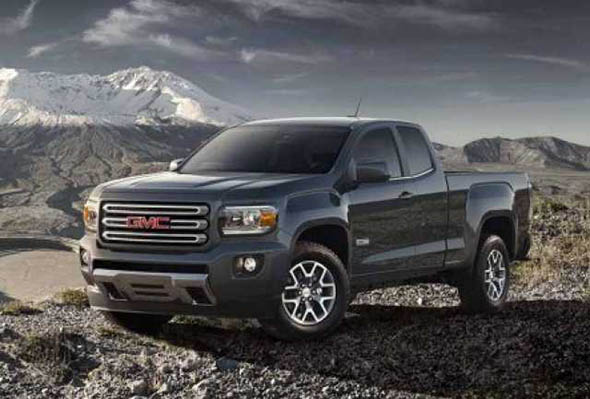 Depending on chosen trim level, GMC Canyon 2017 comes with blacked-out or chromed frontal fascia. In both cases, mid-size truck's nose is heavy, tall and angular. 16, 17 or 18-inch wheels adorn the tires, while cabin can either be of extended or crew variety. Apart from mentioned front fascia and corresponding decals, Canyon doesn't differ that much from Colorado. You'll do well no matter which of these you choose.
GMC Canyon 2017 Interior Features
Even cabin layout is basically copy-pasted. We don't know which of the duo to announce the original, and which copy, though, since both have been made simultaneously. Sleek dashboard offers a neatly shaped control panel with standard 4.2-inch audio display or optional 8-inch touch screen display with navigation. Most available models offer cloth seats in a number of varieties, but top grades come with leather-trimmed seats. Actually, tech list has been, more or less, entirely carried over from Colorado.
That way, 2017 GMC Canyon offers 4G LTE Wi-Fi internet connection across the board. In terms of safety, GMC's version of GM compact pickup offers hill-descent control, trailer sway control, rearview camera, forward collision warning and lane departure warning. Pretty nice list of advanced safety options for a compact truck, especially considering that even full-size options usually fail to deliver all of them.
2017 GMC Canyon Price and Release date
GMC Canyon is rated at 20/27 mpg with rear-wheel drive, automatic transmission and 4-cylinder engine. Manual shifter lowers the numbers to 19/26 mpg and all-wheel drive to 19/25 mpg. On the other hand, V-6 is rated at 18/26 mpg at its peak, and at 17/24 mpg looking at the low end. Prices start from $21,000 and manage to surpass the $37,000 mark. That's the main difference between Canyon and Colorado as latter can be acquired for much less.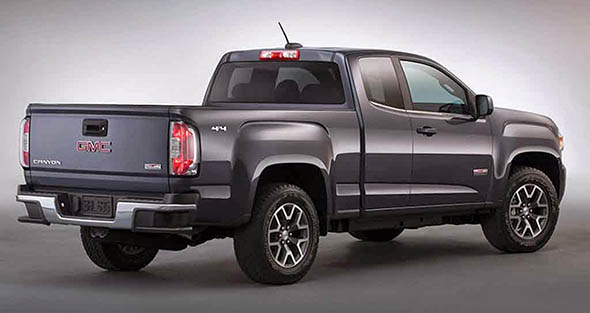 2017 GMC Canyon and its mechanically identical twin Chevy Colorado can both be considered as best compact pickups in the U.S. market. Canyon, especially, offers some more refined options in its top tiers and manages to become almost a luxury vehicle. It remains to be seen what kind of answers are Japanese competitors preparing?
Writen by