This spring the market should be richer for all-new 2016 Mazda CX-9. It should come with a better performance, fuel-efficient four-cylinder turbo engine, well-equipped interior, and spacious cabin. Although this model comes redesigned compared with the previous model, its price will probably be slightly increased, but not for much.
Exterior design
As for the exterior of the new 2016 Mazda CX-9, this new model is coming with its first major redesign and this model has been on the market almost a decade. This car has three-row seats, capable of comforting seven passengers. The real striking look the Mazda will get from a trapezoidal grille and a new set of LED headlights. It will come with lighter chassis, which is pretty big news. The new Mazda will take down its weights for 198 and 287 pounds, depending on configuration and trim level.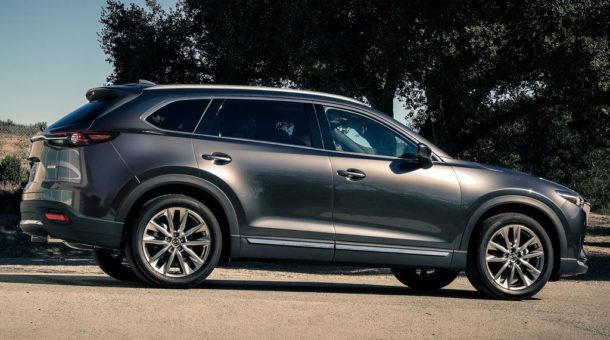 The company also said that this new model should come offering better performance and efficiency. Well, this removed weight should help to achieve it. The model will come with a 2.2 inch-longer wheelbase and that will provide more legroom, but also make much easier for rear passengers to exit and entry in the new Mazda. The car will be set on 18- or 20-inch wheels, depending on a customer's choice.
Interior design
As for the interior, the new Mazda CX-9 2016 will come well-equipped and more spacious. The trim levels are unknown yet, but according to some car experts, the new Mazda should come as Sport, Touring, and Grand Touring trim levels. It should have one additional trim named Signature and in this trim level, the company will offer rosewood trim, aluminum accents, and Napa leather.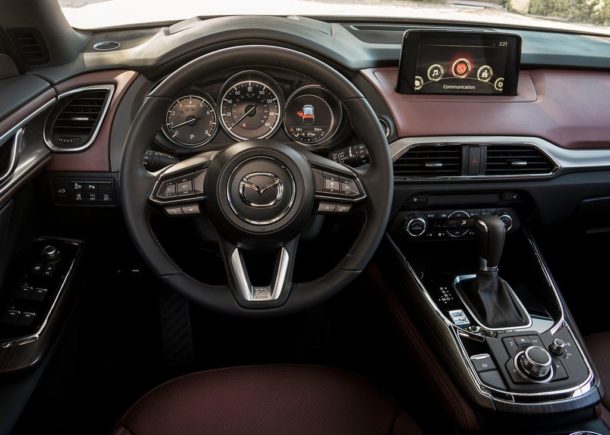 The Mazda will be equipped with a premium Bose audio system with 12 speakers and Connect smart phone integration. It will have two USB ports in the front and two for passengers in the second row. It will be equipped with a 7-inch central entertainment display, while an 8-inch display will be offered as optional. Although the third row should comfort an average-size adult, these seats are actually the best choice for the kids.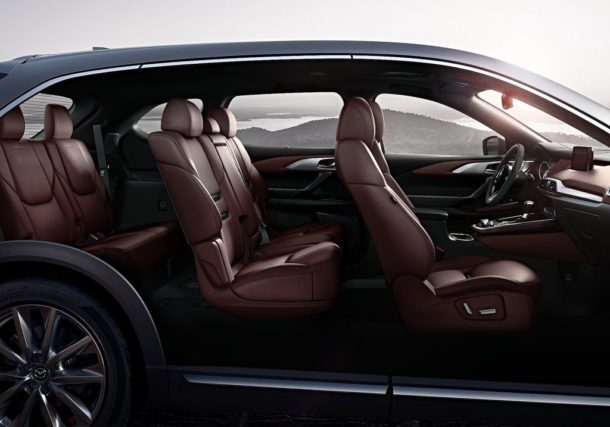 As for the safety tech, the model will have a radar cruise control, departure warning, lane-keeping assist, automatic high beam control, etc.
Engine specs
Engine wise, the Mazda CX-9 will be powered by a turbocharged 2.5-liter four-cylinder engine, which will be capable of delivering 227 hp and 310 pound-feet of torque. This engine will be mated to a six-speed automatic transmission. The car will be available with FWD system as standard while AWD system will be offered as an optional.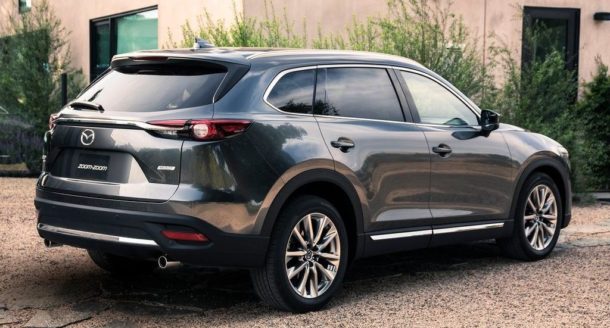 As for the EPA numbers, they are not available yet, but according to the company this new engine should have 20 % better fuel economy compared with the V-6 engine in the previous model.
2016 Mazda CX-9 Price and release date
This new 2016 Mazda CX-9 should appear on the market this spring, so probably anytime soon. As for the price, the company hasn't announced it yet, but this all-new Mazda CX-9 won't be highly expensive compared with the previous model. It will probably start with $31.000.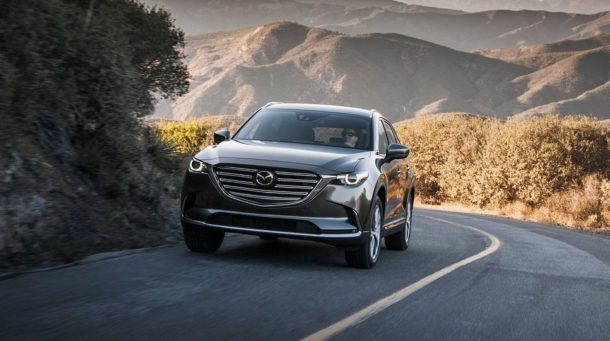 The main rivals to the new Mazda will be Honda Pilot and Toyota Highlander. However, in the same class, some buyers may also find interesting Chevrolet Traverse, Hyundai Santa Fe and Ford Explorer.
2016 Mazda CX-9
Summary
Dimensions: 199″ L
Curb weight: 4,301 to 4,504 lbs
MPG: Up to 22 city / 28 highway
Other model years: 2014, 2015
Price: $31,520
Writen by