Released in 2012, the current Altima has been updated a couple of times throughout its lifetime. Even though it may not be the most powerful or the best car to drive in its class, it still sells quite well. Why? Well, it has to be one of the better looking sedans on the US market and its unique styling made many people love it. In order to keep the interest high, it looks like a new model is about to be released with the future 2019 Nissan Altima. So far the manufacturer didn't reveal much information about this upcoming vehicle. Even so, it is quite clear the new Altima is well into the development process. In fact not that long ago the car has been spied testing with very little camouflage on it. This prototype seemed to feature the production body which is quite impressive to look at.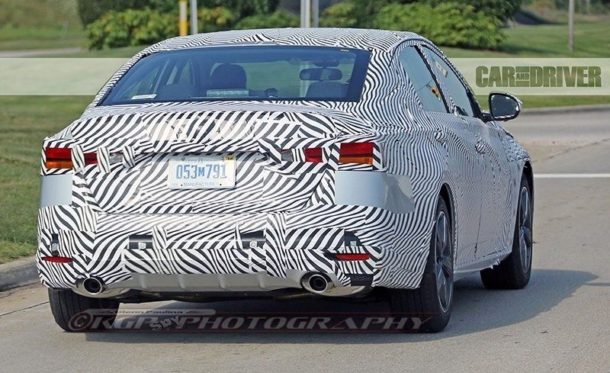 2019 Nissan Altima – In detail
At this point in time it looks like the future Altima is going to be based on Nissan's modular front wheel drive architecture. Over its predecessor the car is not going to change all that much. It will still get roughly the same suspension setup and a really similar running gear. Despite that, some suggested the car may receive bigger brakes in order to give the driver more confidence. Also, the lower center of gravity is expected to make it quite a bit better to drive than its predecessor without having to compromise on the comfort of its passengers. Some also said a rear wheel drive model is possible but unfortunately this is highly unlikely. The good part is the fact that the car will cost roughly the same as before which would be a huge achievement for Nissan.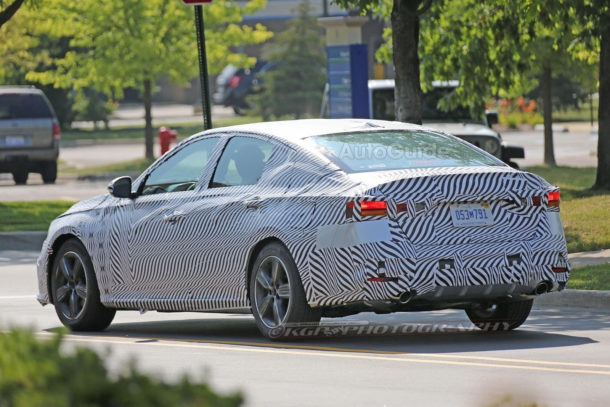 Design
While there are still months until its official release date, we have a pretty good idea about the finished look of the 2019 Nissan Altima. It seems like the car wil borrow quite a few design cues from its larger sibling, the Maxima. On top of that it seems like Nissan will also look at their Vmotion 2.0 concept in order to make the new Altima a bit more striking than before. In the front it looks like it will receive a much larger grille than before as well as new swept back headlights. With the much wider fenders, the coupe-like roof-line and the much lower hood-line, the new version of the Altima definitely seems to look a lot more like a premium product. The car's rear end is not nearly as striking which is somewhat surprising. However, it looks like the 2019 Nissan Altima may still receive quite a few changes until its official unveiling.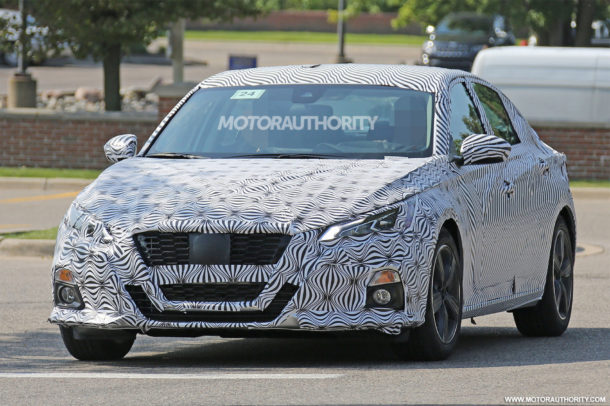 Interior
The camouflaged test mule of the upcoming Altima also sported the finished cabin which is very surprising. The design here seems to be considerably better than that of its predecessor. There is an all new infotainment system with a "floating" screen, less buttons than before as well as a more stylish set of buttons for the AC system. The car spied a while ago also had a flat-bottom steering wheel, a part-digital instrument cluster and aluminum accents throughout the cabin. All of these could suggest a sports version for the car which would allow Nissan to come up at the top of their class for sure.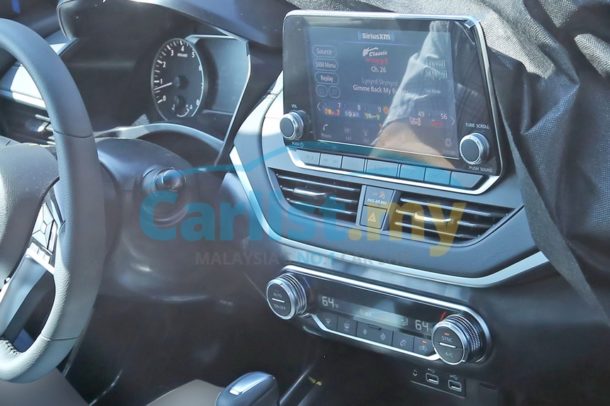 2019 Nissan Altima Under the hood
The current model is being powered by either a 2.5 liter inline-four with 182 horsepower or by a larger 3.5 liter V6 good for up to 270 horsepower. Both of these drive the front wheels only which is usually the case with family sedans. However, most rumors suggest the upcoming 2019 Nissan Altima might change a few things. The base model of the car is expected to boast a new 1.6 liter turbo-four which would provide closer to 200 horsepower and 200 lb-ft of torque. This would not only be more powerful but also more efficient than its predecessor. A 6 or 7 speed dual-clutch gearbox driving the front wheels is likely going to be the only option for this engine. The higher end models are expected to stick with a 3.5 liter V6. However, this would be part of Nissan's new set of V6 engines and it is expected to offer closer to 300 horsepower and 260 lb-ft of torque. An all wheel drive system is a real possibility for this version of the car.
Writen by