The 2014 Ram 1500 Sun Chaser is here. Ram Trucks became a separate division of Chrysler Group. It rouse from Dodge trucks division and it is producing heavy-duty as well as regular full size pick up trucks. Ram 1500 Sun Chaser is a concept vehicle, although it is produced by the Ram trucks division which was until now mostly oriented toward heavy duty trucks, it is a beach cruiser pick up truck.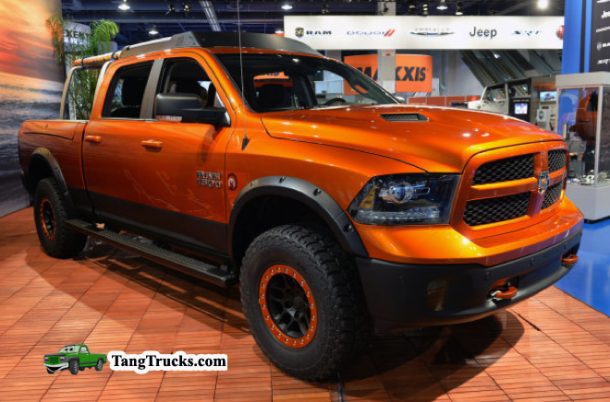 Ram 1500, formerly known as a Dodge Ram was launched in 1981 model year for the first time, and it had a ram head ornament on its hood as a trademark, from which the whole Ram truck name comes from.
Exterior and Design
The 2014 Ram 1500 Sun Chaser has a unique surfing style exterior. It has a custom orange paint which makes it look cheerful and fun. It has little bit less space in its bed area then the regular Ram 1500 because of the surf board holders, but the coolest feature there are definitely the folding bench seats made out of hard plastic, attached to the tailgate, which can accommodate two adults with their legs swinging from the tailgate. Front bumper is in black tone with two orange hooks. It has sport performance vented hood and Mopar surf board holder on the roof which works in conjunction with board holders in the bed area. This surfing baby rolls on 17 inch alloy wheels with rubber wraps.
2014 Ram 1500 Sun Chaser Interior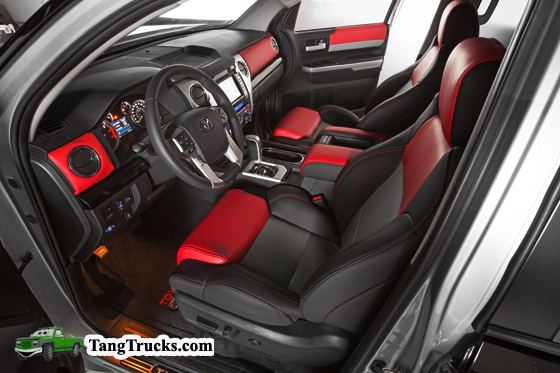 Interior of the 2014 Ram 1500 Sun Chaser is produced to make you enjoy your day on the beach to the fullest. It has an onboard shower and water blather inside the cabin which is very useful if you are heading to some wild beaches or if you are in a hurry after surfing or swimming. This concept truck comes also with leather upholstery with contrast stitching which matches the exterior color. Same goes with dash and door inserts stitching.
2014 Ram 1500 Sun Chaser Engine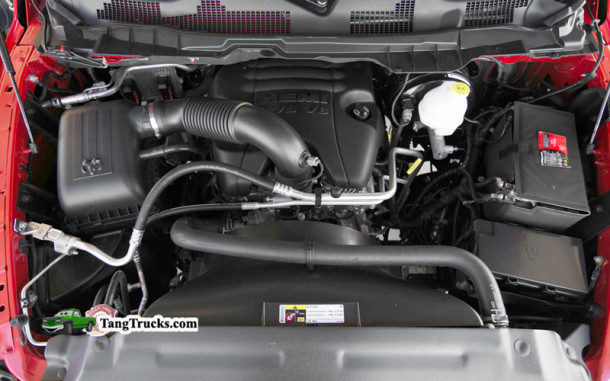 The 2014 Ram 1500 Sun Chaser comes with standard Ram's 5.7-liter, HEMI V-8 engine, with cat-back exhaust and 2 inch lift suspension. This combination is one of the Ram 1500 standard, so this pick up truck doesn't offer anything new in the performance field.
2014 Ram 1500 Sun Chaser Concept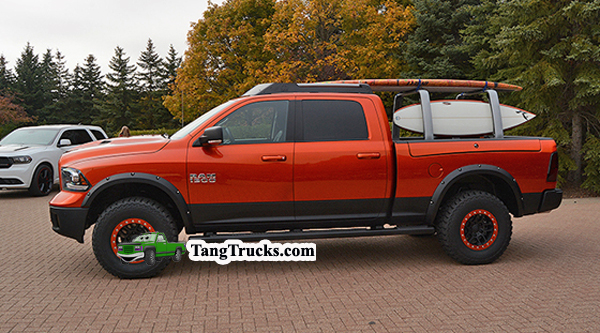 Since this is a concept pick up truck we can't really know its price until Ram Trucks Division gives some more information about their plans for this model.
It is unbelievable how fast pick up truck market is growing. Some 5-6 years ago production of pick ups like 2014 Ram 1500 Sun Chaser was almost Science Fiction, but now when whole market went crazy for the off-road experiences it is very possible that some hard core surfers will enjoy their days under the sun while driving new Ram 1500 Sun Chaser.
Image Gallery:
More information:
Top Speed http://www.topspeed.com/cars/ram/2014-ram-1500-sun-chaser-concept-ar161050.html
Writen by