In order to be able to better compete with the already established luxury car manufacturers, Hyundai decided to release an entirely new brand not that long ago. The Genesis brand is meant to be Hyundai's high-end arm and so far they managed to impress quite a few people. Unfortunately the Genesis brand doesn't really have all that many offerings. This is luckily going to change in the near future. Not that long ago it has been confirmed that an all new model is going to be released with the 2018 Genesis G70. This will be their entry-level luxury car offering and the details seem quite impressive. The car will be based on the same platform as the Kia Stinger. However, it will be lighter, likely faster and quite a bit better looking.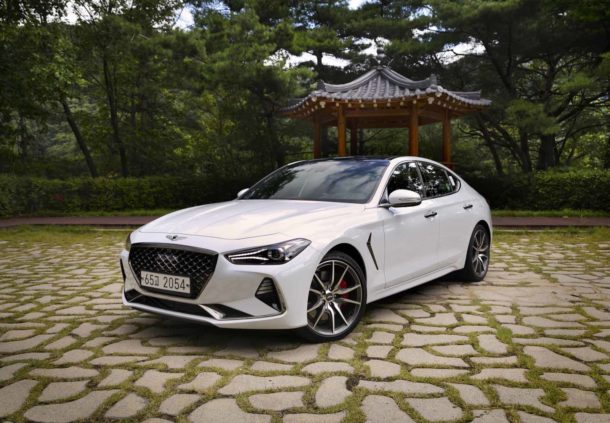 2018 Genesis G70 In detail
Some also suggested the G70 will be better suited for those looking for comfort while the Kia will be meant for those looking to enjoy their cars. Well, it seems that this may not be true. In fact, there are plenty of sources saying the upcoming G70 might be a better car to drive than the Kia as well as being more comfortable. This may be achieved with the help of a better suspension setup, likely sporting adaptive shocks in some of the higher end models, as well as lighter materials. The brakes are likely going to be the same but thanks to being lighter, the car should be both better to drive and more comfortable. So far nothing has been revealed about its price but it looks like the 2018 Genesis G70 might cost more than some of its rivals which would be quite interesting to see.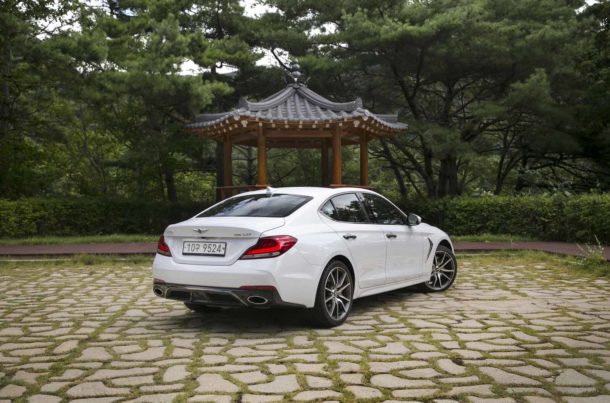 Interior
Even though the car is still in prototype form, its interior has been mostly revealed which is quite unusual. Instead of taking design cues from their other cars, the G70 seems to sport its own look which is always great. The car features a really wide center stack on which rotary AC-controls and rectangular AC vents can be seen. These seem to be made out of aluminum which is in line with some of its more premium rivals. The car also sports a large wide-screen infotainment system that may not be "floating" like with its rivals. Instead, this may be integrated into the dashboard for a cleaner look. The instrument cluster seems to use analogue dials but this could change closer to its release date. Inside the cabin we can also see aluminum inserts on the doors, sports modular seats as well as a part-aluminum steering wheel.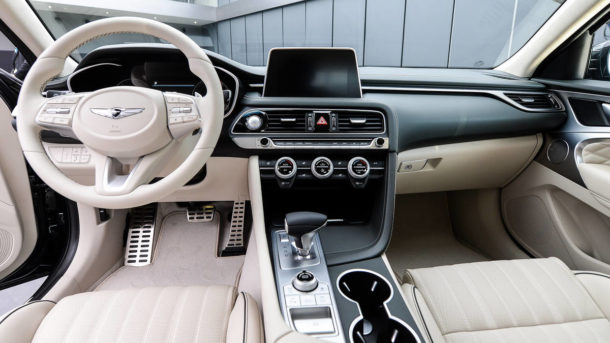 Exterior
The 2018 Genesis G70 will be based on the concept Hyundai showcased a short while ago. The production vehicle seems to boast roughly the same hexagonal grille and really slim headlights as the concept. It also inherits the pushed-back cabin and the really long hood which is the recipe for a true sports-sedan. However, the production G70 seems to be closer to Hyundai's current offerings than Genesis' which is interesting to see. This may be nothing but a placeholder, so it remains to be seen what the production model will bring.
Under the hood of 2018 Genesis G70
We are certain the upcoming 2018 Genesis G70 will provide a set of at least two engines. The base model is likely going to receive a 2.0 liter turbocharged inline-four gasoline engine good for around 255 horsepower and 260 lb-ft of torque. Further up the range the car is likely going to receive Hyundai's 3.3 liter twin-turbocharged V6 which is known for 365 horsepower and 376 lb-ft of torque. Both of these engines should drive the rear wheels via an 8 speed automatic and both of them should be at least as capable as in the Stinger. In fact, rumors are saying the G70 will be faster than its sibling. The car should be able to hit 60 MPH quicker than 4.7 seconds when equipped with the V6 engine and under 6.0 seconds for the base model. An all wheel drive model has also been rumored and even though it hasn't been confirmed, it is more than likely, especially when considering the competition. A hybrid engine is also a real possibility but so far neither Hyundai nor Genesis said much about this possible option.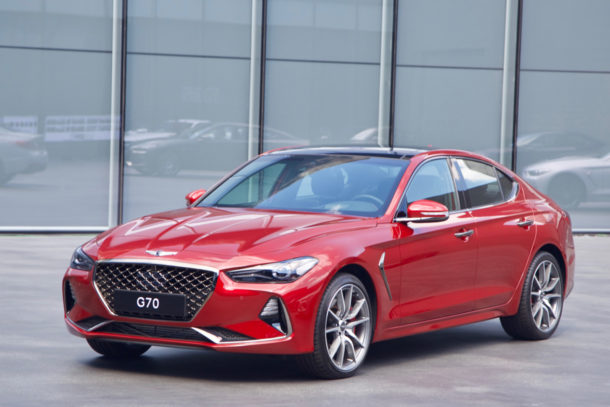 Writen by